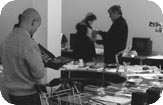 A Temporary Archive 2.2, 2000
(archive can be visited free of charge)

De Geuzen: a foundation for multi-visual research was established to create a forum for critical inquiry, reflection and production. There are three core initiators, Riek Sijbring, Femke Snelting and Renée Turner who operate as a collaborative art and design team making context specific projects which aim to establish relays between different disciplines and attempt to explore shifting perspectives with regards to visual culture. Having a multi-form practice comprised of curation, programming, collection and visual association, De Geuzen seeks to initiate situations that act as a catalyst for research and dialogue. For Manifesta 3, De Geuzen has made the Temporary Archive where materials addressing issues of border delineation will be gathered and organised according to selected thematic strands such as mapping/cartography, nation, culture, identity, gender, body and economy. Books, magazines, websites and visuals will continue to be gathered, collated and made available to visitors for the duration of the exhibition. The Temporary Archive is intended to be a platform for ongoing research, production, lingering and exchange.
sponsors:


Jabolko

Softnet d.o.o.