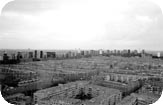 Siebren de Haan

At the end of the 20th century, the city is suffering from a crisis. The classical city, as a clearly recognisable demarcation of identity, appears to have fuded away. The city has transformed into a centre-less conglomerate of suburbs, lacking any unification. The decay of the classical, walled city into a modern agglomerate was a gradual development, in which virtual, transparent borders replaced physical, visual ones. In contrast with the previous clear outline of the city against its surroundings, we now observe vague transition areas, which accommodate multinationals, Vinex locations, highways and recreational sites, merged into peripheral areas without apparent form. It appears that the current periphery of contemporary cities is essentially characterised by a complex traffic network. Every major city is nowadays surrounded by a circular highway that permits easy access to, departure from and bypassing of the city. The re-identification and emphasis of the periphery and, hence, of the city, is in my opinion one of the primary challenges in urban planning.
I propose to restore the city's original function, i.e., that of a clear demarcation of identity. To this end, the circular highway around the city is roofed in and covered with high-rise buildings. The buildings form a massive city wall, similar to the classical city wall with its gates, fortifications and towers. The buildings outside this city wall will again be less compact and lower than the high-rise buildings in the wall. Consequently, the city will be clearly outlined against its surroundings.
High-rise apartment blocks form an inhabited city wall, from which one can experience the awakening of the city every day. The inhabitants can glance at the city's outline in an instant. It is a place where one gets acquainted and re-acquainted with the city. Not only does it constitute a home for its inhabitants, but it is also a true destination for strangers who can become aquainted with a new and unknown world.
Thus, not only is the essence of the city rehabilitated, but distinction is also conferred on such over-theorised concepts as 'inside' and 'outside', the explicit contrast between the city and its surroundings transforms the city into a 'civitas', the symbol of an urban community with a vivid social and intellectual life.